Image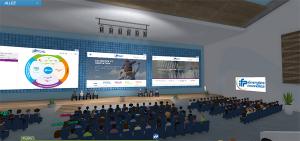 Your participation to the Basin Modeling Workshop in a 100% virtual format will require the download of the Virbela platform.
Read the information below carefully.
 
 fa-chevron-circle-right  Laval Virtual Platform: Technical Information
 fa-chevron-circle-rig  Plateforme Laval Virtual : Informations Techniques
Here are the pre-requisites to download the Virbela platform to send to your IT department in order to check that the download will not cause you any difficulties (firewall problems for example).
Once these checks have been made you can launch the executable file on your computer. However, you have no Laval's technical assistance, and no access to the Green Centre before the dates below.
Monday 31 May
Laval Virtual will send an e-mail to the registered persons inviting them to download the platform if it is not already done. Laval's technical assistance will be available from this date for any difficulty you may have concerning the platform.
Friday 4 June
Laval Virtual will send an invitation to the registered persons giving them access to the Green Center.
You will be able to start familiarising yourself with the virtual space before the start of the symposium.
Speakers,  authors of posters will also be able to test  their files with the help of the Laval's technical assistance (from 14.30 to 18.30 Central European Summer Time).
Each day of the workshop - Meeting point in Preview room for the speakers : https://www.basinmodeling-ws.com/en/information-authors
 
 fa-chevron-circle-right   Green Center: First Steps
 fa-chevron-circle-right   Green Center : Premiers pas
Here is the notice to help you to discover the areas and control your avatar as soon as your access is open.
Assistance will also be present on site throughout the congress to provide you with all the help you need (orientation, circulation, loading of presentations for speakers and authors of posters, exhibitors, etc.).
You can already find this information in the video below